Filter
A
B
C
D
E
F
G
H
I
J
K
L
M
N
O
P
Q
R
S
T
U
V
W
X
Y
Z
0-9
A
B
C
D
E
F
G
H
I
J
K
L
M
N
O
P
Q
R
S
T
U
V
W
X
Y
Z
0-9
Eye drops for contact lens wearers
When wearing contact lenses, it is important that the lens "floats" on a tear film of appropriate quality and quantity. Otherwise, the lens rubs against the surface of the cornea, which, in addition to causing a foreign body sensation and possibly stinging pain, can give pathogens a green light through the small lesions caused and therefore lead to severe corneal inflammation. The aforementioned friction can irritate the surface of the eye, causing inflammatory cells to penetrate and chronic inflammation to develop.
Our range includes both preservative-free and preservative-containing eye drops. With the filter function on our website, everyone can find the perfect product for them. For contact lens wearers, we recommend our range of eye drops for use with contact lenses.
Eye irritation when wearing contact lenses
Today's modern contact lenses are made from breathable materials that are least likely to irritate the eyes. They can keep the eyes moist for a long time, so there is less risk of dry eyes.
However, contact lens wearers are advised to use a suitable eye drop that can replenish moisture in a few moments if necessary.
Contact lenses can usually cause increased eye inflammation when they become dirty or are overused. Always make sure that lenses are used with good hygiene and that they are not worn longer than the recommended period. So if you wear daily or monthly contact lenses, pay extra attention to wearing time. Contact lenses are not recommended for red eyes, please consult your ophthalmologist first.
Systane Ultra preservative-free eye drops for contact lens wearers
A well-chosen eye drop provides an immediate and long-lasting solution, helps tear film recovery, reduces foreign body sensation, reduces burning sensation, reduces evaporation of aqueous layer. It is recommended to read the appropriate treatment information before use.
Eye drops for dry eyes
Dry eye is a common eye condition that has a significant impact on quality of life through impaired visual acuity and the discomfort it causes. It can affect people of all ages and can compromise the outcome of corneal, cataract and refractive surgery.
A malfunction of the Meibomian glands in the eyelids leads to a deterioration in the quality of the lipid layer that seals the tear film, resulting in more rapid evaporation from the ocular surface. Dry eye symptoms can be influenced by various factors: climate, dry air, smoke, dust, environmental factors. Eye drops revitalise tired and irritated eyes.
Types of dry eye
Depending on the types of dry eye, based on the presence or absence of ocular symptoms and objective signs, dry eye disease can be water-deficient, evaporative and mixed.
Eye drops used to treat dry eye
These types of eye drops are used to temporarily relieve the burning sensation and irritation caused by dry eyes. If you experience persistent eye discomfort or severe tearing, blurred vision or reddening of the eyes, for example, stop using eye drops and consult your eye doctor, as the condition may worsen.
If the symptoms do not subside or disappear after a few days, it is important to consult a specialist.
Categories of eye drops
Eye drops for very dry eyes;
Eye drops for contact lenses;
Eye drops for use after regeneration, injury or surgery;
Eye drops for dry eyes;
Preservative-free eye drops.
Dry eye symptoms
Dry eyes can be mild or severe. Dry eye symptoms may include: eye pain, headaches, squinting, blurred vision, tired eyes, muscle cramps. Our dry eye drops are available in a variety of different packaging types.
For mild symptoms caused by dry eyes, you can choose from a range of eye drops and artificial tears. Please always read the instructions for the product you have chosen before use.
Like all medicines, eye drops can cause side effects, but not everyone will experience them. Occasionally, blurred vision, slight inflammation (irritation) of the conjunctiva, dilated pupils, local reactions (burning, redness, swelling, pain, itching) may occur at the application site. Excessive and frequent use may cause burning, stinging.
The use of eye drops and eye drops with artificial tears may provide rapid relief of mild symptoms, but if local reactions occur, persistent blurred vision or if eye redness persists, please seek specialist advice.
In severe conditions, special care should be taken to avoid possible conjunctivitis. The most common sign of conjunctivitis is redness of the eye. This is followed by severe tearing, discharge, itching and, in more severe cases, pain and the sensation of a foreign body in the eye. If you have conjunctivitis (a bacterial infection of the eye), you can get eye drops without a prescription, but if the problem is severe, you should consult a doctor and use the products he or she prescribes.
We also offer preservative-free eye drops. It is important to follow your ophthalmologist's instructions and product usage instructions to ensure proper application.
Order eye drops online
If you are an old customer, you can re-order your previous order with a simple click of a button when you log in to your profile. Choose from our range of eye drops on sale and buy your favourite brand of eye drops or artificial tears at a discount of up to 30-70%.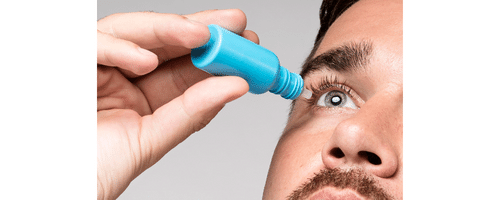 Buy your favourite brand of eye drops with fast and even free delivery depending on the total amount of products. Current information on delivery charges can be found on the delivery and payment page of the eOpticians online shop. You just need to register in our online shop with an email address and password.